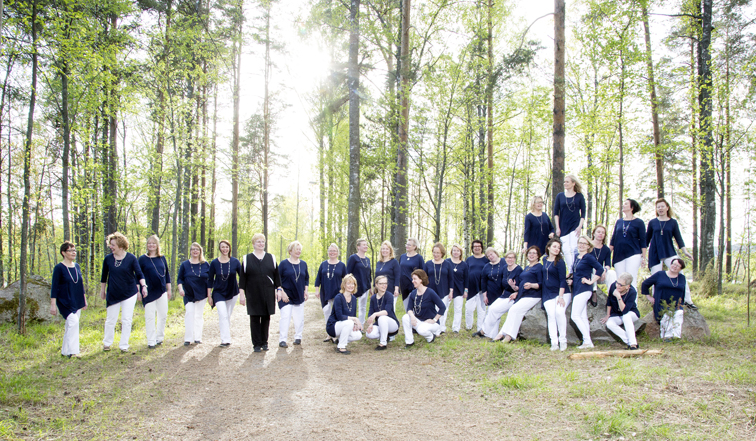 Jyväskylä Female Choir was founded in 1952 and has about 40 singers. The choir is one of the top Finnish female choirs both in terms of skills and activity. We rehearse every week, and hold rehearsal weekends and concerts several times a year. Nowadays we are affiliated to Jyväskylä Adult Education Centre. Jyväskylä Female Choir Association is a member of the Finnish Female Choir Association and Sulasol.
Jyväskylä Female Choir's repertoire focuses on newer Finnish and international women's choral music, but we enjoy more traditional music too. Sometimes we also commission works from established and emerging Finnish composers.

We like a challenge and regularly participate in competitions, although singing is a hobby for us. In 2017 we took part in the 11th World Symposium on Choral Music in Barcelona, where we had two concerts. In 2015 we took part in the international choir competition and choral festival CantaRode in Kerkrade, the Netherlands, where we came in fourth overall and first of the equal voice choirs. Before that we competed in the international choir competition Slovakia Cantat in 2009, where we were awarded gold in the women's choral and church music categories.
At home, we competed in Sävel in Tampere twice (1999 and 2013), and were awarded two silvers both times. We have also participated in the Finnish Female Choir Association competition in 2015 and in the Sulasol singing and instrumental music festival, which is held every five years (2007, 2012 and 2017).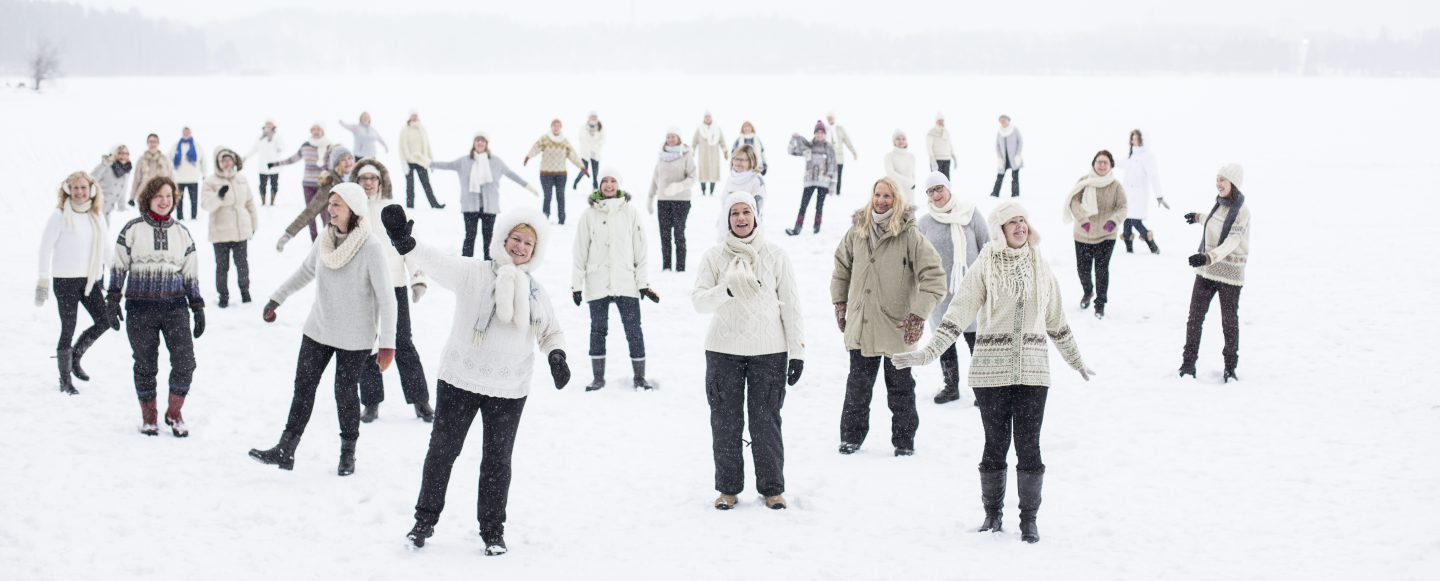 The choir has organized two composition competitions. The last winner in 2012 was Swedish Staffan Storm, whose work Också dessa dagar signerade we have performed twice with a symphony orchestra. The first public performance with the Jyväskylä Symphony Orchestra was in 2013 and the second, with Vaasa City Orchestra, at the opening concert of the international Vaasa Choir Festival in 2014. Orchestral works composed for and performed by female choirs are a rare treat.
We have kept up a busy concert schedule over the years, both in and around Jyväskylä and all over Finland. Besides concerts with other Jyväskylä choirs, we have also performed with Helsinki's Philomela (2010 and 2009), Kuopio's FC Sawotta (2013), Seinäjoki's men's choir Jussit (2009 and 2008) and Jämsä's Femmineo (2017 and 2007). The band Juurakko was our guest in 2016.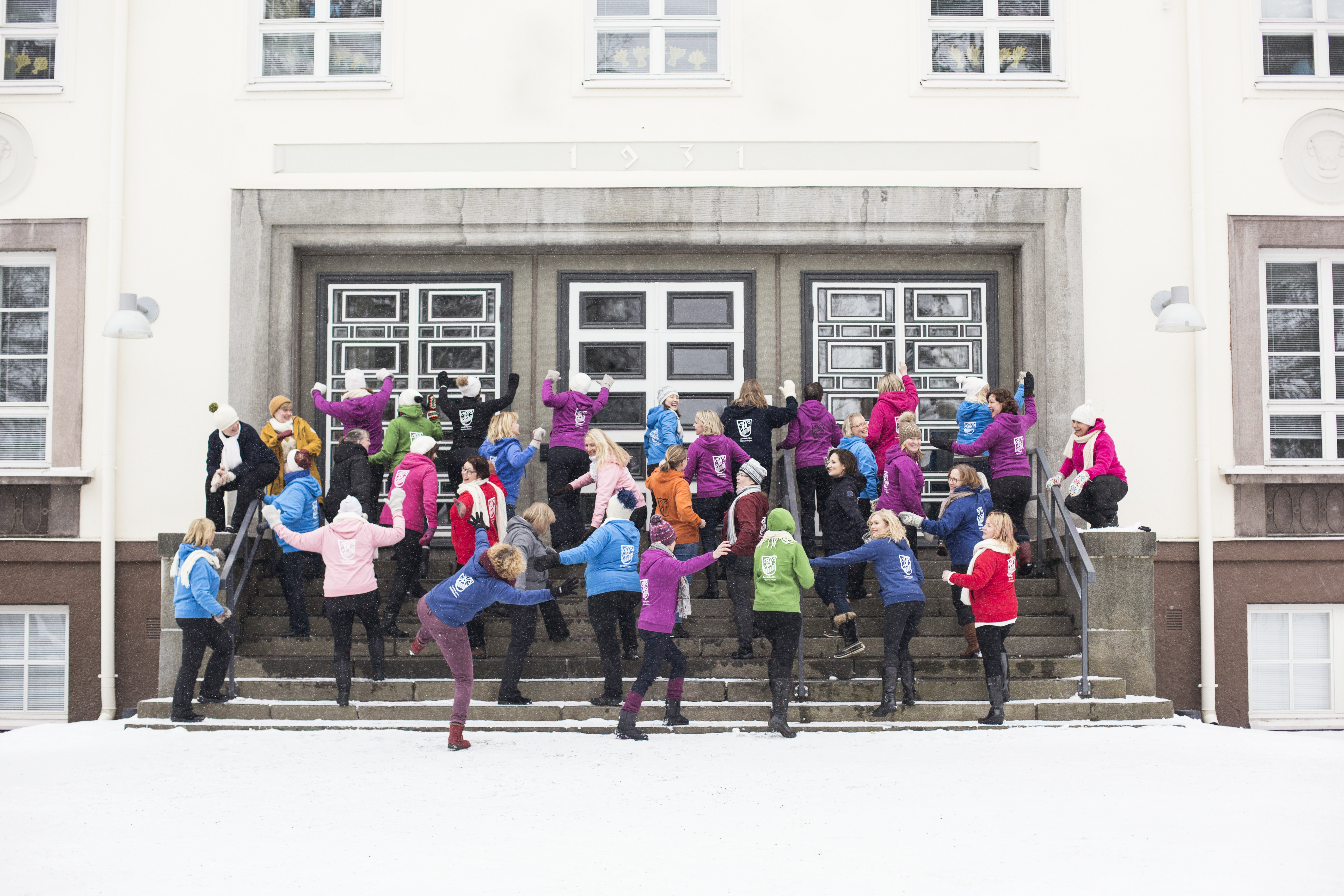 We have released five albums. The most recent, Tunnen joulun, came out for Christmas 2016. You can follow the choir's activities on our Facebook page, Jyväskylän naislaulajat, and listen to earlier albums and music videos on Spotify and YouTube.
The key events of the years 1952-2002 are recorded in Jyväskylä Female Choir's 50th anniversary history. In 2002, Jyväskylä Female Choir was selected as female choir of the year.
Choir director Rita Varonen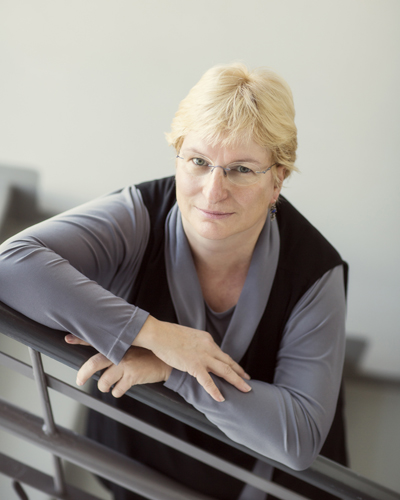 Rita Varonen has directed the Jyväskylä Female Choir since 1993. She received her master's degree in choral conducting from the Franz Liszt Academy in Budapest. She also has a degree in wind band conducting and has studied singing.
Rita Varonen is an internationally successful choir conductor. She won second prize in the Mariele Ventre International Choir Conductor Competition in Italy and was awarded Best Choir Conductor at the Slovakia Cantat and Academic Banská Bystrica competitions. The Finnish Choral Directors' Association selected Varonen as Choir Director of the Year in 2004 and in 2012 Sulasol awarded her the prestigious Klemetti Prize in recognition of her work for Finnish choral music.
Rita Varonen is senior lecturer in choral conducting at Jyväskylä University of Applied Sciences. She is also a sought-after expert at training events and judge in international choral competitions.